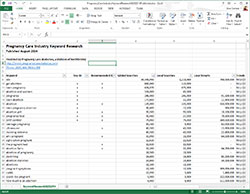 August 29 - Pregnancy Care Websites, a division of the NetMinistry Technology Corporation, has published a report analyzing over 700 search terms related to the pregnancy care industry. The downloadable report sheds light on what many pregnancy care clinics and pregnancy centers have been yearning to understand - what specific phrases prospective clients are actually searching for when they need their services.
Pregnancy Care Websites has made this report available free of charge and downloadable and distributable to anyone who can use it.
For help implementing an effective SEO strategy, please feel free to contact us at (813) 441-9815 and speak with someone on our team. Mention the report for industry-only pricing for SEO services for pregnancy care centers and pregnancy clinics.
About Pregnancy Care Websites
In August 2014, NetMinistry acquired the client portfolio of Old Hickory Creative, a boutique agency based out of Battle Ground, WA, founded by Tieson Wooten. The successful transition of dozens of pregnancy care centers and pregnancy clinics as well, as the company's existing client base of the same, has made NetMinistry one of the largest providers of websites for pregnancy care centers and pregnancy clinics in the United States. To best serve its new clients, Pregnancy Care Websites was started as a specialized division of the company, based in Tampa, Florida. Tieson Wooten has moved on to pursue a consulting practice for pregnancy clinics and centers throughout the country using his family's success with Options360 as a foundation.
With over 20 years of industry experience, CEO Jose Gomez has announced Pregnancy Care Website's aggressive plans to service the pregnancy care industry at a time when the few alternatives have left pregnancy centers and clinics frustrated and without remedy. "It's time to apply what we have been doing at NetMinistry for over 7,000 churches, ministries, and non-profits to an industry that is so relevant to our time, " commented Gomez.